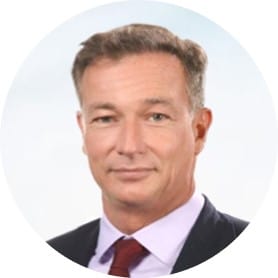 LODEWIJK GOVAERTS
Managing Partner – Amsterdam
Lodewijk is a well-known and respected leader in the European and Asia Pacific markets. He brings more than 30 years of Financial & Business Management experience serving international companies, financial institutions and high net worth individuals across the globe through his deep personal involvement in M&A, Corporate Finance, financial (re)structuring and asset & investment management. His unique experience is proven by a solid track record in building profitable businesses through his leadership, expertise, innovative mindset and strong shareholder & stakeholder relationships, whilst at the same time achieving first in class in risk management and compliance.
He has worked with considerable success in senior executive and C-level roles in global banks, such as ABN AMRO Bank and Scotiabank in nine countries across Europe, Asia Pacific & Middle East, Latin America and the Caribbean. His financial services experience ranges across all banking & capital markets product-services and nearly all industry sectors (including Tech) in the global economy. Over the past couple of years, he has also engaged strongly in Environmental & Social Governance.
Network in the Netherlands, UK, rest of Europe, Asia, Australia, the Middle East, the Caribbean and the Americas. Strong relationships with clients (C-suite), ministries, regulators and state-owned entities in countries of operation. Recipient of entrepreneurship award and various financial markets awards. He holds a Masters (drs), MBA degree from University of Groningen, completed Wagner's post graduate Corporate Governance course for non-Executive directors and Harvard University's FinTech course. He is also a "first batch" Chartered Banker of the Asian Institute of Chartered Bankers.
Lodewijk currently also serves as Asian Development Bank's ("ADB") Non-Executive Director on Indonesia Infrastructure Finance ("IIF") Board, having previously served on various other supervisory boards.