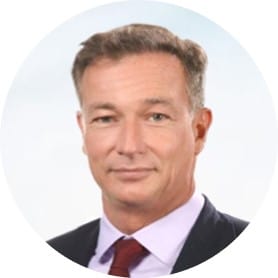 LODEWIJK GOVAERTS
Managing Partner – Amsterdam
Born in Curacao, Dutch Caribbean (formerly Netherlands Antilles), Lodewijk is a Dutch national with three children. Lodewijk is based in Amsterdam and has lived for 35 years in twelve countries in Europe, Asia-Pacific, North America, Latin America and the Caribbean.
Lodewijk brings more than 30 years of Financial & Business Management experience serving international companies and financial institutions across the globe through his deep personal involvement in M&A, Corporate Finance and financial structuring. His unique experience is proven by a solid track record in building profitable businesses though his knowledge, innovative mindset and strong relationships, whilst at the same time achieving first in class in risk management and compliance.
He has worked with great success in senior executive and C-level roles in global banks, such as ABN AMRO Bank and Scotiabank in nine countries across Europe, Asia Pacific & Middle East, Latin America and the Caribbean. His financial services experience ranges across nearly all industry sectors (including tech) in the global economy and in Environmental & Social Governance.
Lodewijk is a recipient of Enterprise Asia's Entrepreneurship Award and has collected various other financial markets awards over the years. He holds a Masters (drs), MBA degree from Groningen University, The Netherlands, and completed Wagner's post-graduate Corporate Governance course for Executive & Non-Executive Directors and Harvard University's FinTech course. He is also a "first batch" Chartered Banker of the Asian Institute of Chartered Bankers.
Lodewijk currently serves as Asian Development Bank's ("ADB") Non-Executive Director on Indonesia Infrastructure Finance's (IIF) Board, having previously served on various other supervisory boards.